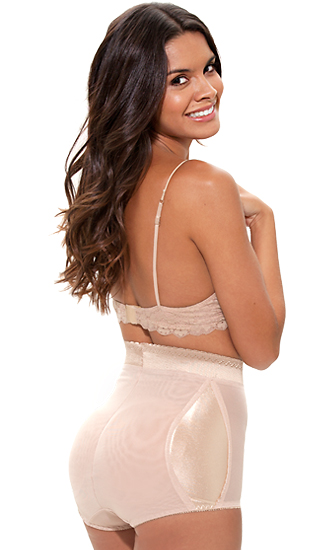 Our
Retro Diamond Padded Panty
is one of our most popular, best selling
padded panties
year after year. Designed with silky-soft materials and a wide comfortable waist band, this panty controls the entire midsection while giving a customizable boost to the backside.
How is it customizable? The ingenious pad pockets fit almost any size or type of Bubbles
Booty Pads
(and that's a lot of booty pads!). All around the most comfortable highrise padded panty out there!
Here are just a few on the 5 STAR REVIEWS you'll read on at L
oveMyBubbles.com
...

I originally ordered the Victorian bodysuit but I should have sized up so I sent it back and got this panty. I love it! It is very comfortable despite how high it is. I love a BIG bum so I wear the 3-XL silicone butt pad and the thickest foam pad together. The results are amazing my booty looks perfect, it sticks out so much I am obsessed with this look. I recently gained a lot of weight from medication so I decided to embrace it and my new booty gives me so much confidence. I find myself wearing this around the house because I never want to take it off. The only downside is the diamond front is visible under light clothing and the heavy padding shows a bit und
er some clothing but I am just going to wear boy shorts over if I have to. I just ordered the Victorian bodysuit in my size [X-Large] am looking forward to receiving it. Thank you Bubbles I
♥
U
-Irene, NJ

My order arrived in 2 days. The XS panties were a perfect fit! Once I put the pads in OMG! Beyond my wildest expectations - I used BOTH sets of pads in size X-L, they fit in the pockets perfectly. My butt went from 31 inches to a plump and round 35 inches!! I recently lost weight rapidly from cancer and chemo and my butt literally deflated. I found your site by accident and I am so glad I did. I am already planning my next order! I told all of my friends and two sent in an order that same day! I had several boxes of clothes that I was giving away because altering them was going to be too difficult. As soon as I tried on my padded panties, I opened all of the boxes and began SNATCHING my favorite pants and skirts out of the boxes to keep for myself - Thank you, Thank you Thank you!!!
-Reena, GA

I just received my Retro Diamond High Rise Padded Panty and the Silicone pad I bought. I cannot tell you how wonderful this product is. I have worn it under a pencil skirt, light denim jeans, maxi-dress, and shorts, and they looked seamless and natural under all of them.

I walked around, sat down, got up, drove around, and did basically anything a normal Saturday would entail, and did not have any shifting, bunching, or sagging.

I am saving the silicone pad for the dresses, as the padding that comes with the panty is sufficient enough for me. This is a wonderful product!! I am going to be placing an order for anything and everything I can afford. Thank you, THANK YOU!

-Anonymous, Canada